Weight loss is a struggle and it is one of the challenges most women face. Ever thought to try best natural weight loss foods asides those different approaches that didn't work?
Changing eating habits or having the willpower to refuse "interesting" foods full of flavor and fat is complicated in times of weakness. Like it can be a hard time rejecting a candy, for example.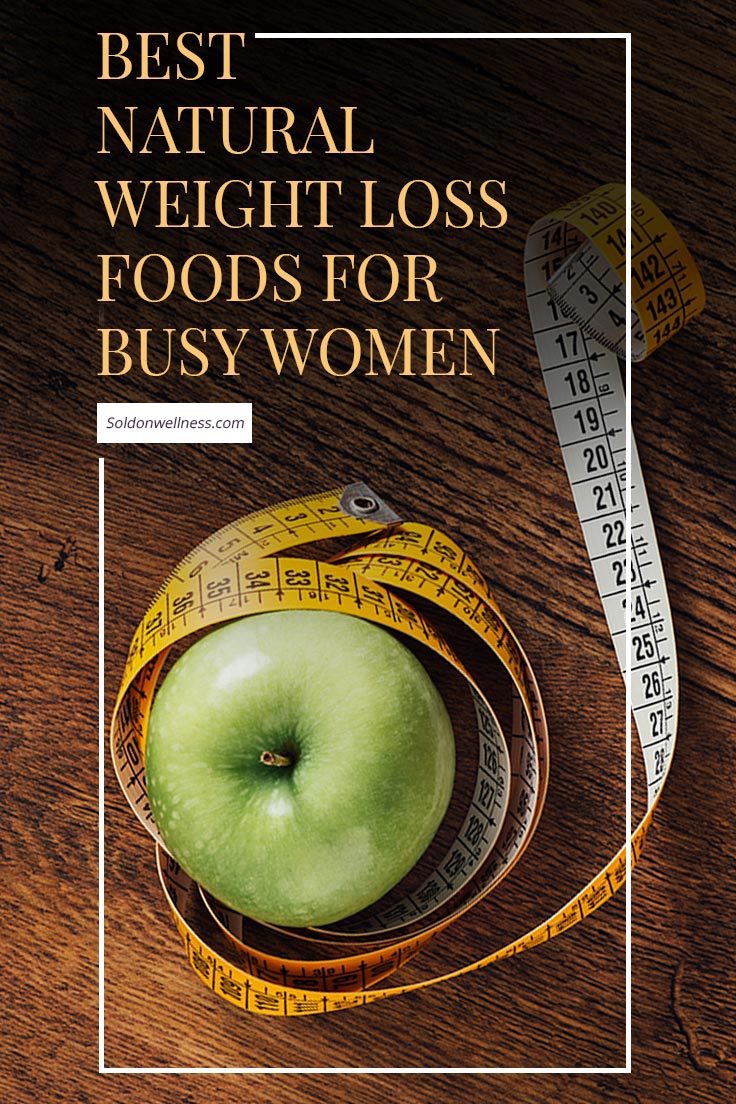 In most cases, to lose weight is to have a change of mentality, set a clear goal and fight for it. Don't overthink the subject of food because if we obsess about the subject, it could slow us down.
It is necessary to get rid of the "prohibited foods," that is to say, the prepared industrial food, pastries, sweets, chocolates, foods of fast chains, etc. and exchange them for a large dose of fruits and vegetables and lean proteins that fill us with nutrients and vitamins.
Once we change our buying habits as well and go for the best natural weight loss foods, it's a great idea to introduce exercise to our daily routine.
Walk at least half an hour a day at a brisk pace and if time allows, do series of aerobic exercises at home to force the body to lose calories quickly.
To the main information on best natural weight loss foods which I'm sure you want to get to, let's talk about foods that you should not hesitate to add into your weekly or monthly menu.
The foods we consume are all metabolised differently and therefore always have a different effect on our hunger, hormones or even on how many calories we burn.
The list below can be a great way to relax, and enjoy delicious foods even while on your quest to shed some weight.
Best Natural weight loss foods, no 1: Celery
​
​
The secret of celery is very simple: it contains fewer calories and helps you burn more than you eat. Celery is mainly made up of water, which is why it is good as part of a balanced diet.
However, it is not recommended that you make a diet based only on celery, because your body will not get the necessary minerals and nutrients. So the obvious decision is to combine it with other foods.
Best Natural weight loss foods, no 2: Salmon
​
​
High-fat fish are very healthy. Salmon contains high-quality proteins, healthy fats, omega-3 fatty acids, and many important nutrients. They also provide the body with the required iodine intake. Iodine is particularly important for the thyroid, which controls the metabolism.
In addition to salmon, the occasional consumption of trout, mackerel, herring or other high-fat fish is a good idea – they all ensure long-lasting satiety despite low-calorie count.
Best Natural weight loss foods, no 3: Rhubarb
​
​
Rhubarb is a medicinal root that has been used for thousands of years. Originally it was Asian cultures that began to benefit from their consumption and then spread to the entire planet.
Rhubarb is a plant that has been known for many centuries for its purifying and diuretic benefits, so it helps eliminate toxins our body accumulates but does not need.
With regards to its properties to lose weight, there is no doubt that one of its most important qualities of rhubarb is in this regard.
The presence of fiber, which stimulates the secretion of bile acids, and helps our body can eliminate fat better by dragging it with waste.
It is important to note that taking rhubarb in excess can cause intestinal irritation.
Best Natural weight loss foods, no 4: Coffee
​
​
I know so many people who can't imagine their life without a cup of delicious coffee when they wake up to start a nice morning. We all know it's because caffeine helps us feel animated and alert.
When a dose of caffeine enters the system, the heart rate increases, the blood carries more oxygen, and more calories are burned.
Unfortunately, the effect is completely spoiled if you consume it with any type of cream and sugar. Think of a decent replacement to sweeten it, for example; you can add cinnamon.
For coffee though, I'll say moderation is important.
Best Natural weight loss foods, no 5: Sweet potatoes
​
​
Sweet potatoes, according to The World's Healthiest Foods, are an excellent source of vitamin B6, potassium, vitamin C and fiber
With only 157 calories per cup, sweet potatoes can be an excellent food when you're trying to lose weight. Also, the natural fiber they have decreases the processing rate of sugars, which prevents you from going hungry between meals.
They can be prepared in several ways plus its a delicious way to add healthy vegetables to your diet.
Sweet potatoes are very similar to potatoes, but different in terms of nutritional composition and physical appearance.
They are characterised by their sweet taste and have a greater amount of vitamins than potatoes. They are considered the only low-calorie food that contains a high concentration of vitamin E.
Best Natural weight loss foods, no 6: Leafy vegetables
​
​
Green leafy vegetables, such as kale, spinach, rocket or iceberg lettuce, have different properties that can promote weight loss.
They are low in calories and carbohydrates, but they contain a lot of fiber, which has a positive effect on digestion.
Green vegetables also contain many vitamins, minerals, and antioxidants. If you often include salads or spinach in your diet, you can increase the volume of your meals without increasing the calorie count – a great diet for weight loss.
Best Natural weight loss foods, no 7: Avocados
​
​
One of nature's goodies! You'll get to see what I do with avocado in some of my Afro fusion recipes.  Avocados are also among the foods that can help you lose weight. They are full of nutrients such as fiber, potassium, and healthy fats – particularly high is the content of monounsaturated oleic acid (the same type of fat as in olive oil).
The use of avocados in combination with lettuce is particularly suitable because the fat contained in the avocado can better absorb the nutrients from the vegetables.
Best Natural weight loss foods, no 8: Squash snap peas
​
​
If we talk about moisturizing the body, then doing it with food that is composed of 95% water is spot on, hello Squash snaps peas!
A vegetable that provides a large number of minerals, vitamins, trace elements and fiber that favours the digestive system.
Its high water content and fiber makes it an ideal food for weight loss diets.
Another interesting fact is that Squash snap peas increase metabolism by promoting the action of fat burning.
All this is due to vitamin A, which promotes the oxidation of these lipids, these fats provide calories, while it hydrates, provides nutrients and gives a feeling of fullness.
Wrap up on Best Natural weight loss foods
Keep in mind that to lose weight, burn fat and lose more pounds; one must have a balanced diet, an excellent exercise routine, and good nutritional advice.
I have put together an amazing visual representation of things fruits, nuts, grains, vegetables, do for us here, be sure to check that page because I promise, you will start to look at food differently afterward.