How many articles have you read about the Health Benefits of Exercising Regularly? Did you start exercising but stopped after a short while? How many fitness apps have you paid for and left redundant? I know because I'm also in your "shoes".
Knowing we need to exercise is a good start but when faced with realities of keeping the home, it's either forgotten or done randomly yet exercising is one of the best self-care practice you can gift your body, and it can transform your life in new ways you will love.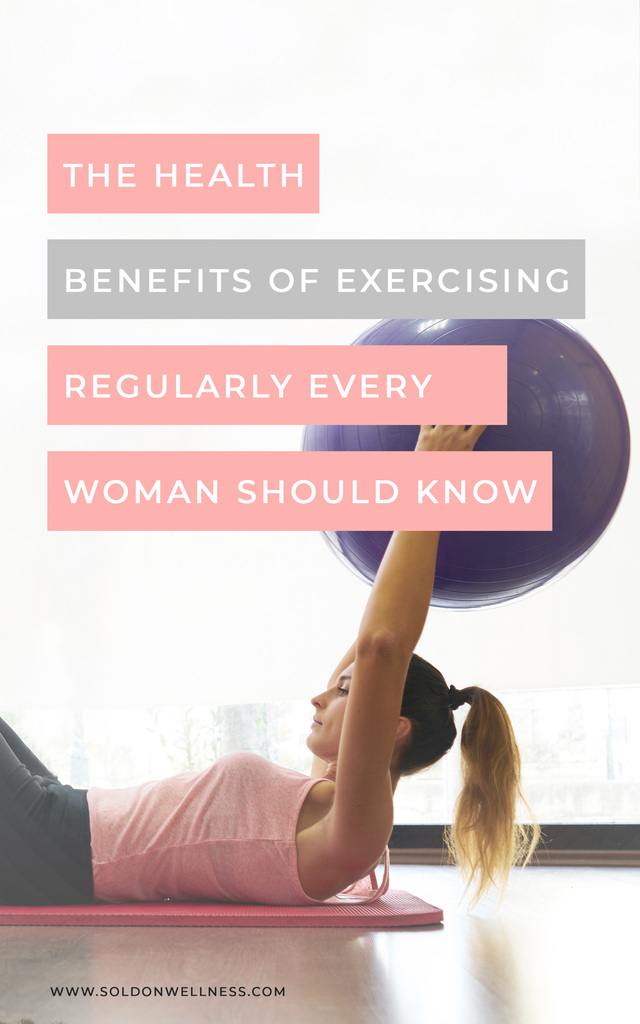 If you are already aware of the Health Benefits of Exercising Regularly then this might be a reminder in case you need to hear it again and if this information is new to you, then it certainly should be a welcomed wake-up call. Here are a few ways you'll benefit from exercising.
1. GLOWING SKIN
Who doesn't love a beautiful soft glowing skin? The beauty industry flourishes hugely because of women, from body butters to creams to cleansers, toners, perfume, the list goes on, BUT you actually can see a significant result in your skin if you exercise more? Exercising can help relieve acne and dull skin plus it can help prevent fine lines and wrinkles which are early signs of aging. How cool is that?
2.  MAKES YOU ENJOY DEEP AND QUALITY SLEEP
Show me a mom who craves a beautiful night sleep (always), and I will present you and I. Did you know that exercising regularly will reward you with a peaceful deep and quality sleep? Our body's circadian rhythms which are responsible for keeping us alert and awake during the day and make us feel sleepy at night is strengthened when we exercise. If you struggle with sleep, why not try at least 15 minutes of exercise a day and notice the improvements.
3. BOOSTS YOUR SELF ESTEEM
Self-esteem is about the confidence we have in our abilities or worth (our accomplishments), committing yourself to more than twice a week exercise will give you that feeling of accomplishment, and it will naturally boost your self-esteem, you will be proud you have done something beautiful for yourself.
4. AIDS WEIGHT MANAGEMENT
Another Health benefits of Exercising regularly is that it helps you burn calories you have consumed which will invariably help you to either lose or maintain your weight.
5. IMPROVES YOUR MEMORY AND BRAIN HEALTH
Ever felt your brain is shutting down like you can't process one.more.word from anyone around you especially with kids and partner OR do find out that the simplest tasks and routines are now tricky and confusing for you? Time to give exercising a go!
Exercise stimulates the production of hormones which aids the repair and growth of your brain cells, it can prevent brain fog and also improve the overall health of your brain and memory.
6. CAN REDUCE OR PREVENT FEELINGS OF ANXIETY OR DEPRESSION
According to a study by Penn State University, those who exercise regularly even as beginners were found to be happier and content than those who fail to do so.
Do you want to feel better? Try to workout often, slowly increase the intensity of your workouts, and you will feel more happy, healthy and fulfilled.
7. HELPS IN REDUCING CHRONIC PAIN
Our body is just like a machine, if you keep/make it active, it will function well. Several studies have shown the Health benefits of Exercising Regularly in its possibility to reduce and eliminate excruciating chronic pains, as well as decrease your body's perception of aches and pain and increase your pain tolerance.
I know it can be a tough habit to get used to, but the positives outweigh any excuse we might have, know that you aren't alone, it takes a deliberate effort to commit to exercising regularly though.
The kids will be covered, your man will be proud of you, the chores will be done, know why? because you naturally are there to fix all these. It is time for you to work towards a healthy body and exercising is fantastic for you after all a healthy happy mom equals a healthy happy family.
I will love to hear what you have benefitted from exercising and feel free to share your tips as well.
Be Healthy, Be Happy