If you are a cooking enthusiast like me, you would understand the essence of owning the right cookware. It makes a difference between a perfectly scrambled egg and a hot mess. That's why when I discovered that my favorite non-stick pan may or may not be infusing my body with harmful toxins; I was devastated.
Since the ease of cooking which my non-stick pan granted to me would no longer be available, I had to seek an alternative. As a result, I found myself going back to basics with the frustrating iron pan that had me battling dried up bacon and eggs.
When I got the Xtrema Ceramic Cookware, I was a bit skeptical. Just think about it…ceramic and not metal? Whoever thought of that? I had a lot of doubts about the practicability of this pan as durability and safety were a significant issue for me.
Instead of letting the skepticism take over, I decided to visit my old friend Google on the use of ceramic wares for cooking. The results were enlightening. It turned out that ceramic cookware when produced the right way is very durable and is preferred by some of the best chefs.
I decided to give the Xtrema Ceramic Cookware a try, and this was my experience, They have been divided into the good and not so good. Read below:
The Good
Non Toxic and Safe
I am very conscious of what I put into my body and the means used to cook my food. So, having cookware that saves me the stress of maintaining my toxicity free lifestyle was a blessing. The Xtrema Cookware is free from Polytetrafluoroethylene (PTFE) and Perfluorooctanoic acid (PFOA).
The PTFE and PFOA are harmful substances which lead to damage to the immune system and organs of the body. It also Increases cholesterol and affects pregnant mothers. With the Xtrema cookware being free of these chemicals, there is no way it can leach into the body system.
Long-lasting
Expenses are a daily part of my household from buying groceries to paying for fuel for the car. Seeing as I am trying to live on a budget and cut down on excesses, having to replace cookware continually is not something I look forward to. My previous iron pan was due for replacement barely six months into using it.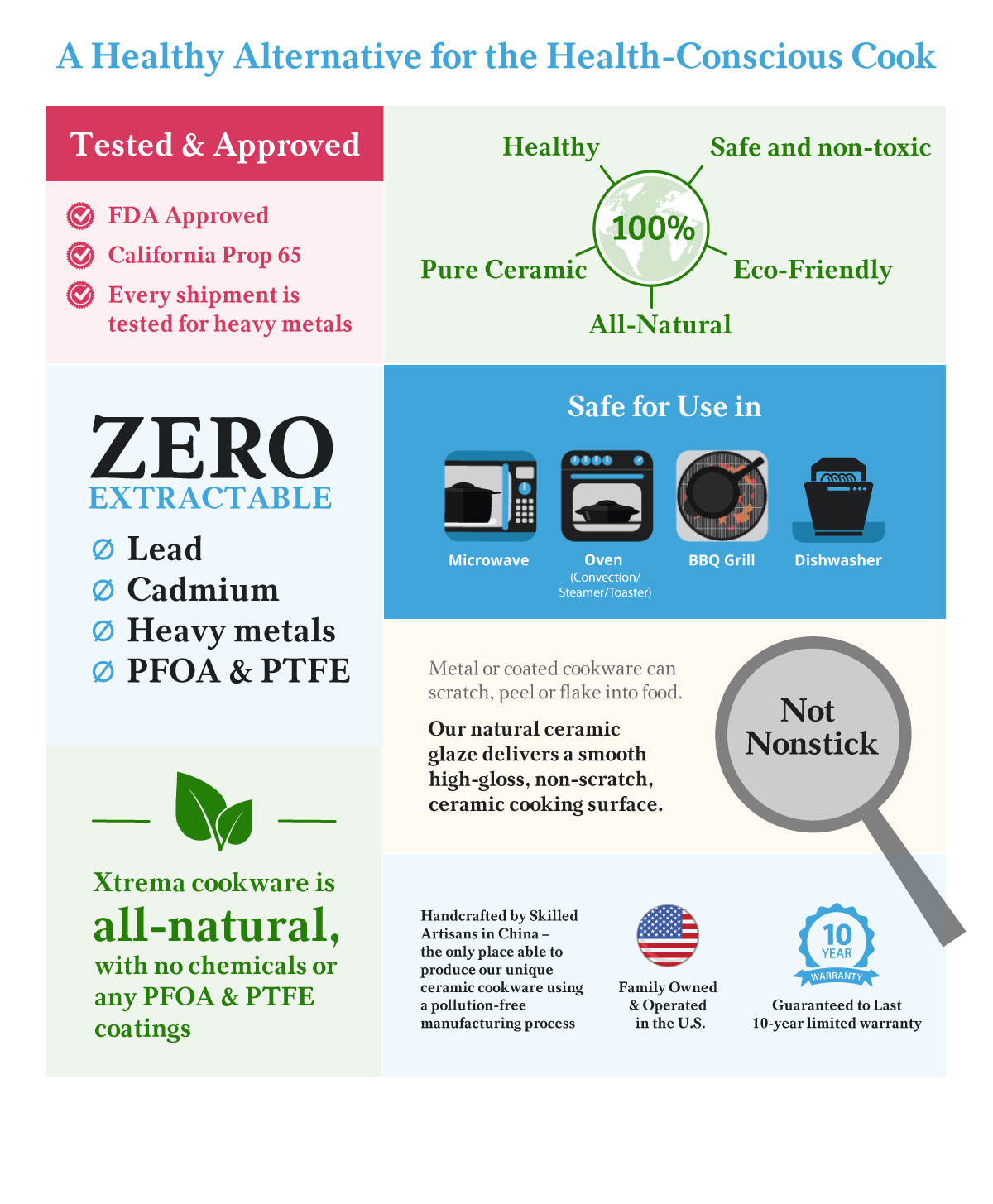 However, after over six months of using the Xtrema Ceramic Cookware, the look is still as new as when I got it. The warranty on the product says 10 years against scratching. Hopefully, I am alive 10 years down the line to attest to this.
Durable
The Ceramic cookware cannot be scratched. I have tried to test the accuracy of the manufacturer's statement. Both the inside and outside is made from reliable ceramic. This attribute is unlike the metal counterpart, which can have scratches on it, especially after long periods of cooking.
Eco-friendly
Earth day was celebrated a few days ago, and I am trying to be more conscious of how my activities cause pollution of the environment. What this means is I try my best to recycle and also manage my use of energy. The Xtrema Ceramic Cookware contributes to my efforts of earth preservation.
After cooking with it for six months, I have noticed that it shortens my cooking time. Also, I can make use of a lesser amount of heat to steam and boil, and the results would still turn out okay. What this means for me is that I save a lot on gas and do my part in protecting the earth.

Versatile
Where do you want it? Where do you need it? I have lugged my Xtrema Ceramic Cookware with me for camping trips and to barbecue. When I am done using it, I place it in the dishwasher, and it turns out okay.
When I am making a casserole, I layer the ingredients in the pot and place in the oven. Through all these activities, the cookware has never come out worse off. Therefore, it can be said that it is safe for use in ovens, dishwashers, barbecue grills, stovetops, etc.
Leaves no after taste or smell
One problem I had with my cast iron skillet was the fact that I could still taste the previous meal cooked in it with the new feed. Also, there was a form of metallic smell when the skillet was left on the gas for too long. The Xtrema Ceramic Cookware saved me from these worries.
Harboring past flavors is not something I am bothered about anymore. My food always comes out with n smells or heavy metal taste.
The Not So Good
Having to adjust to the heat conduction
Like most new things, the instruction manual cannot tell you everything. Some things you need to know by trial and error. Remember how I said earlier that it takes less heat to cook certain things, well I wish I had known that during my first try. It heats up quickly, so it is best to use the lowest setting of your stove during your first try.
Small Size
Out of five ceramic saucepans, only two are large enough to handle cooking large portions. If you have a large family, you might find that it makes cooking difficult. So you might have to purchase a larger saucepan and pot for their visits.
Extra Maintenance
Although ceramic is touted as being long-lasting, this depends on how well you use it. For it to last long, it has to be used the right way. Therefore, if care is not taken, you may find yourself with a cracked or broken pot/pan sooner than you think.
Xtrema Ceramic Cookware products?
Pots
If you love cooking and quality food, you will agree that great-tasting food requires the right equipment. Xtrema Pure Ceramic Cookware has 8-piece Versa Pot set. This set includes three Versa pots with lids: 1.5-quart, 2.5-quart and 3.5-quart sizes. Complete with two red silicone handle protectors for your pots as well.
Saucepan
The sizes of the pans are 16oz, 1 quart, 1.5 quarts, 2.5 quarts, and 3.5 quarts. The 16 oz to 1.5 quarts is only capable of cooking small portions of food. The saucepans can be used for simmering, stewing, and heating food.
For the 2.5 and 3.5 quart saucepans, they can handle a higher amount and are suitable for making large dishes. Anything from vegetables, sauces, and soups are good to go.
Skillet
The skillet is an excellent multitasker. It can be used for sautéing, slow cooking, and braising, among other things. Need something small for cooking a casserole? It is my ideal go to.
The sides of the skillet are high, which means that sauces and juices are contained within it. I find that it is accessible to brown meat using the skillet as it is nonstick.
Accessories
Handling a hot pot has left so many burn scars on my palm, so I appreciate the inclusion of pot holders. The potholders are made from silicone and cotton.
If you need to hold a pan for a long time, e.g., when you are frying a pancake, the silicone holder works best. But, if you are opening pot lids to check the state of what you are cooking, the cotton holder works fine.
To avoid scratches on the body of the Xtrema Ceramic Cookware set, the use of nylon utensils are preferable to metal or wooden utensils.
My Conclusion
For healthy cooking options, ceramic is the way to go. Not only is it non-stick, but it also prevents the transfer of chemicals and metals to the body. My only "ish" with the product is the high maintenance, but it's one I can live with. After all if you love something, you will care for it, right?
Let me know if you've tried any of xtrema's cookware before and I'll love if you share your experience as well.
​