Often time when you think or hear of Detox, your mind starts racing through all the eliminations you will have to do, and I get that, but I will love to show you the options I go for, so I don't feel deprived during a detox.
You know when you don't feel like your typical self? Like Something isn't clicking as it should in your body, that might be a sign you need a natural detox and few dietary adjustments, most especially if you haven't been active (exercising) and you've gone on a long haul of indulgence!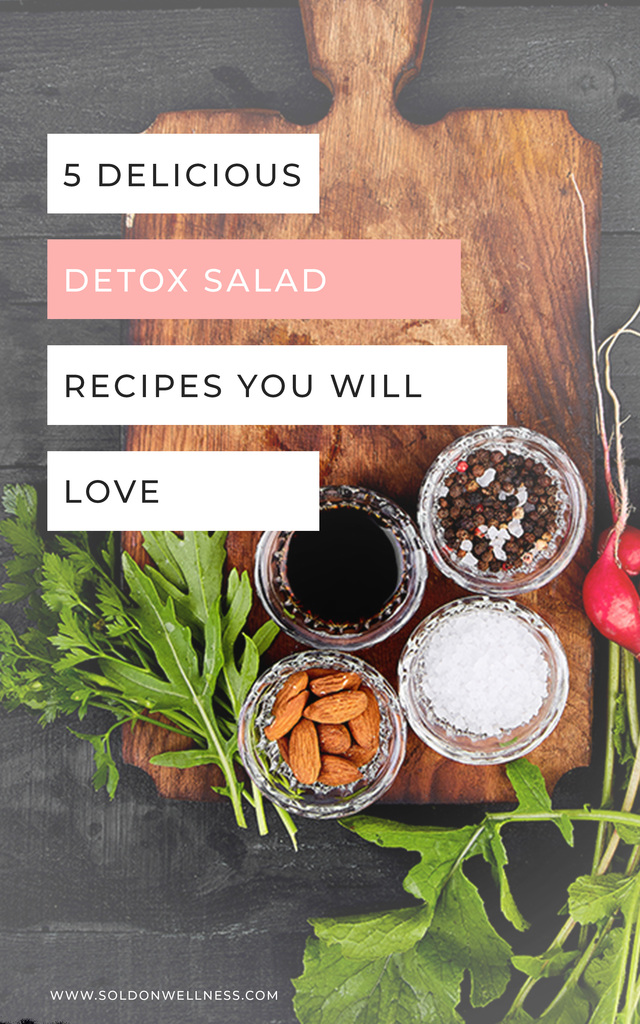 I always add Detox Salad as one of the delicacies during my few days of detoxification, with detox water, detox tea and oh detox dessert. I don't like deprivation, so I go for the yummy options!
These are yummy, and best of all they do the job. Once my body makes the call for a detox, I answer it because when you know the benefits of detoxing, you wouldn't want to deprive yourself of it.
The Green Leafy vegetables (Cabbage, Brussels sprouts, Kale, Brocolli) from the famous cruciferous family have remarkable detoxifying properties.
They contribute well to the Cleansing of the body naturally so I don't skip on them for my Detox salad.
The Benefits of Detox salads
Veggies, Fresh Fruits, and food that contain low saturated fat content with an active lifestyle will make you feel like a million bucks. Eating Salads with Greens helps to reduce your calorie intake, and research has shown that caloric restrictions help in boosting metabolism and promotes weight loss.
For instance,
Kale has incredible health powers and a unique Phytonutrients profile which helps in lowering the risk of cancer. It contains anti-inflammatory compound and antioxidants. It is also high in vitamins A, C, and K, which supports all over health.
Cauliflower is a significant source of nutrients, and it has unique plant compounds which may reduce the risk of cancer, heart disease, and many other diseases.
It is also high in Fibre, an excellent source of antioxidants, It's one of the few plant-based sources of choline.
It contains Sulforaphane which many studies have highlighted has the potential to stop cancer such has Leukaemia, Breast cancer, melanoma and pancreatic.
With just 25 calories per cup, cauliflower has many properties that can help with weight loss.
Beets as well contain vital nutrients like pectin and betaine. Betaine is an amino acid that supports the muscle, the heart and its crucial for Liver health.
It helps protects the bile duct by eliminating fat build us well as built up toxins.
Pectin is another type of fiber, and it improve the digestive system, it helps the body get rid of toxins rather than absorbing it in the body.
Broccoli is excellent for a nourishing energy reboot when it comes to chronic inflammation and toxicity, and broccoli offers tremendous support. Get into the habit of eating broccoli at least twice a week to get all the minerals, antioxidants, fiber, and vitamins its loaded with.
Root vegetables are great when planning an intensely detoxifying salad, root vegetables from the favorite cruciferous family are your go-to.
Sweet potatoes, beetroots, parsnips, carrots all have high levels of potassium which is vital in stimulating your body's cells to eliminate toxins, water, sodium.
Avocado is rich in healthy monounsaturated fatty acids, fiber, potassium. The fat in avocado may aid nutrient absorption from plant foods.
It is loaded with antioxidants that can protect your eyes and its so delicious which makes it easy to include them in your diet.
All the above you will find in the different recipes below.
Hearty Cauliflower Red Beet Risotto Detox Salad Recipes

Serves: 4
Cooking Time:  10 minutesPreparation Time:  10 minutes
Ingredients:
1 tablespoon coconut oil2 tablespoons nutritional yeast1 big cauliflower head, cut into florets½ teaspoon sea salt½ cup beetroot, cooked1 onion, finely diced½ cup low sodium vegetable brothFresh parsley, to garnish4 garlic cloves, crushedBlack pepper, to taste
Instructions:
Put the cauliflower in the food processor in batches and pulse until rice texture is attained.
Heat the coconut oil in a large skillet and add onions and garlic.
Sauté for about 2 minutes and add cauliflower, nutritional yeast, and vegetable broth.
Cook for about 5 minutes, stirring regularly over low heat.
Put the beetroots in the food processor and pulse until smooth.
Mix the beet puree with the cauliflower and cook for about 3 minutes.
Season with black pepper and salt, garnish with fresh parsley to serve.
2. The Grand Cleanse Salad

Serves: 8
Cooking Time:  0 minutesPreparation Time:  15 minutes
Ingredients:
2 zucchinis shaved2 bunches watercress, rinsed2 small broccoli heads, rinsed and cut in small florets2 avocados, peeled and cut in cubes2 small red onions, sliced in thin rings1 teaspoon Dijon mustard2 tablespoons chia seeds1 lemon, juice only2 tablespoons extra-virgin olive oil1 teaspoon sea salt½ cup toasted almonds, crushed
Instructions:
1. Whisk together lemon juice, olive oil, sea salt and mustard in a bowl to form a dressing.2. Put the vegetables in a large bowl and drizzle with the dressing.3. Top with almonds and chia seeds, keep aside for about 10 minutes before serving.
3. The Delish Trio- Quinoa, Apple, and Kale Detox Salad Recipes

Serves: 8
Cooking Time:  6 minutesPreparation Time:  10 minutes
Ingredients:
2 cups fresh kale leaves stem removed and chopped2 ripe avocados, peeled and cut in cubes2 organic red apples, cut into cubes2 cups quinoa, cooked2 tablespoons extra-virgin olive oil2 lemons, juice only4 teaspoons chia seedsToasted almonds, to garnish1 pinch sea salt
Instructions:
1) Put the kale leaves in a bowl and add salt, lemon juice, and olive oil.2) Massage the kale leaves for about 2 minutes until softened.3) Stir in quinoa, red apple cubes, and avocado and toss well.4) Sprinkle toasted almonds and chia seeds to serve.
4. Crunchy Root Veggie Detox Salad Recipes

Serves: 6
Cooking Time:  0 minutesPreparation Time:  10 minutes
Ingredients:
4 carrots, peeled and cut into thin strips2 small sweet potatoes, peeled and cut into tiny pieces2 cups raw broccoli, cut into small florets2 small beets, peeled and cut into thin strips½ cup red cabbage, finely diced4 teaspoons apple cider vinegar1 inch ginger piece, grated½ cup mixed seeds (sunflower, sesame, pumpkin seeds)2 small celery stalks, peeled and cut into thin strips2 parsnips, peeled and cut into tiny pieces2 tablespoons extra-virgin olive oil½ teaspoon sea saltFreshly ground black pepper
Instructions:
1) Put all the vegetables into a large bowl and season with salt and pepper.2) Stir in olive oil, apple cider vinegar, and ginger.3) Toss well to combine and keep aside for at least 10 minutes.4) Top with the seeds and mix well to serve.
5. Special Green Detox Salad

Serves: 5
Cooking Time:  0 minutesPreparation Time:  15 minutes
Ingredients:
2 cups fresh broccoli florets, roughly chopped4 garlic cloves, minced4 cups fresh Tuscan kale leaves, roughly chopped2 small bunches fresh parsley, roughly chopped2 red grapefruits, peeled and cut into cubes½ cup chia seeds4 teaspoons extra-virgin olive oil1 teaspoon sea salt½ cup pumpkin seeds, lightly toasted½ cup pine nuts1 lemon, juice only
Instructions:
1) Put the chopped kale leaves in a large bowl and season with salt.2) Drizzle with olive oil and massage gently into kale leaves.3) Add parsley, broccoli, garlic, grapefruit, lemon juice, and seeds and mix well.4) Keep aside for 10 minutes, so the flavors are infused and serve.
Keep Thriving!
[mailerlite_form form_id=3]