If you're looking for a new healthy breakfast and an exciting option to replace your regular breakfast recipes, you have just found one! These pumpkin pancakes with a rich flavor of everybody's favourite vanilla, cinnamon, a pinch of ginger, and ground nutmeg are delicious, healthy, and extremely easy to make.
Unlike your regular pumpkin pancakes recipes, most of which usually contain enormous amount of highly processed ingredients, this soft delicacy is based on fiber-rich oats, sweet pumpkin previously cooked and mashed, and pumpkin pie spice blend (naturally, you can use the store bought pumpkin pie spice blend or create your own with the right amount of different spices).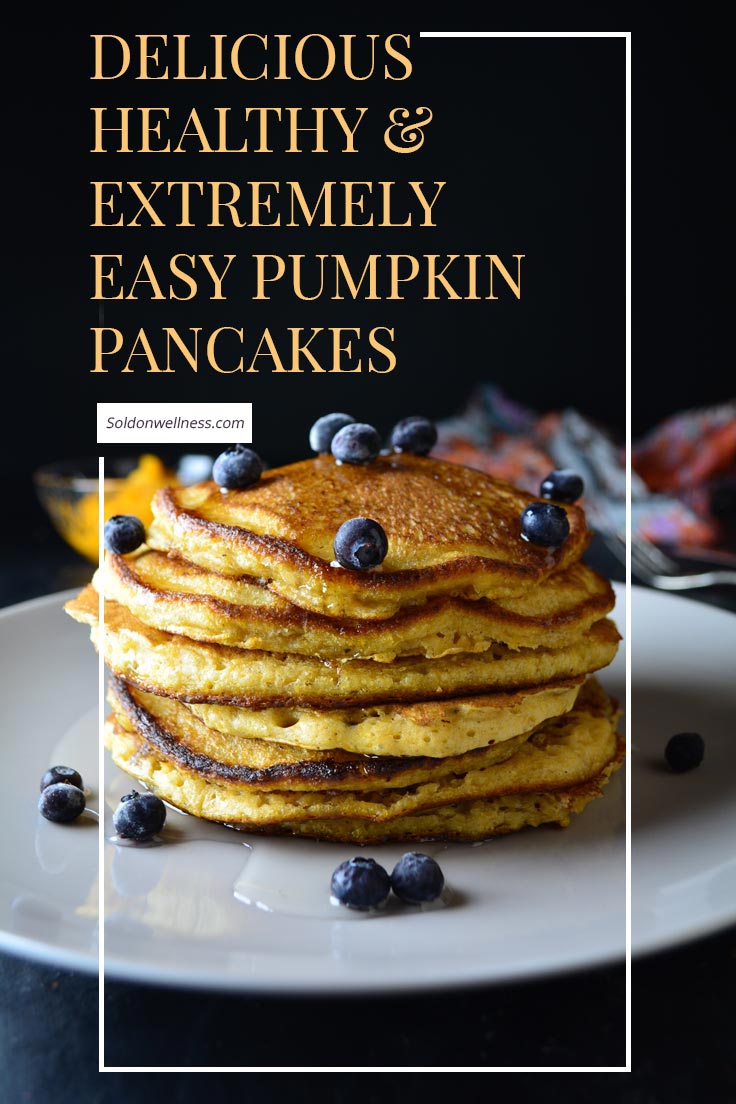 Although these pancakes might seem like an ideal breakfast for Halloween (which is obviously true), pumpkins are a bit more than that. This healthy vegetable is nutrient-loaded food rich in different vitamins and minerals.
It is one of the best-known sources of beta-carotene – a powerful antioxidant that gives pumpkin its vibrant orange color. Beta-carotene is converted by our body into vitamin A. Being a powerful source of antioxidants, pumpkin directly helps boost the immune system, prevents degenerative damage in eyes, lowers the risk of infections, and reduces the chances of cancer.
Furthermore, a high fiber-rich content of pumpkins (and this recipe as well due to rolled oats) helps clean the entire digestive tract and combined with a generous amount of magnesium keeps the gut health in check.
Rolled oats, like most other whole grain, are particularly useful for regulating the hormonal imbalance. It takes a couple of hours for these foods to release their carbohydrates (sugars) which helps reduce cortisol and therefore prevents low blood sugar (and those nasty sugar spikes).
These gluten-free pancakes are based on real foods that are powerful enough to improve your health, boost your immune system, balance your hormones and improve your gut health.
They can be served with some fresh blueberries – a fruit that is proven to help with so many health issues including hormonal imbalance, finely chopped nuts (also powerful ally in regulating hormones), some fresh fruits or simply drizzled with maple syrup. Enjoy!
Serves: 2
Preparation time: 10 minutes
Cooking time: 8-10 minutes
Ingredients for your pumpkin pancakes:
1 ½ cup rolled oats
½ cup pumpkin puree
¼ cup unsweetened almond milk
2 eggs
2 tsp baking powder
2 tbsp freshly squeezed orange juice
1 tbsp maple syrup
¼ tsp cinnamon powder
1/8 tsp ground cloves
1/8 tsp ginger powder
1 tsp vanilla extract
Preparation:
Process oats in a food processor for about 30 seconds. Transfer to a bowl of a stand mixer and add baking powder, cinnamon, cloves, and ginger.
Add pumpkin puree and eggs. With a paddle attachment on, beat for 1 minute on medium speed. Gradually, add milk and continue to beat for another 2 minutes.
Finally, add maple syrup and orange juice. Beat well again and set aside.
Grease a non-stick pancake pan with some cooking spray or lightly brush with oil. Heat up over medium heat. Pour in about ¼ cup of the batter and cook for 1 minute. Flip and continue to cook for 30 seconds.
Repeat the process until you have used all the batter.
When done, drizzle with some agave nectar, maple syrup, or coconut nectar. Top with blueberries or some other fruit of choice.
Serve immediately.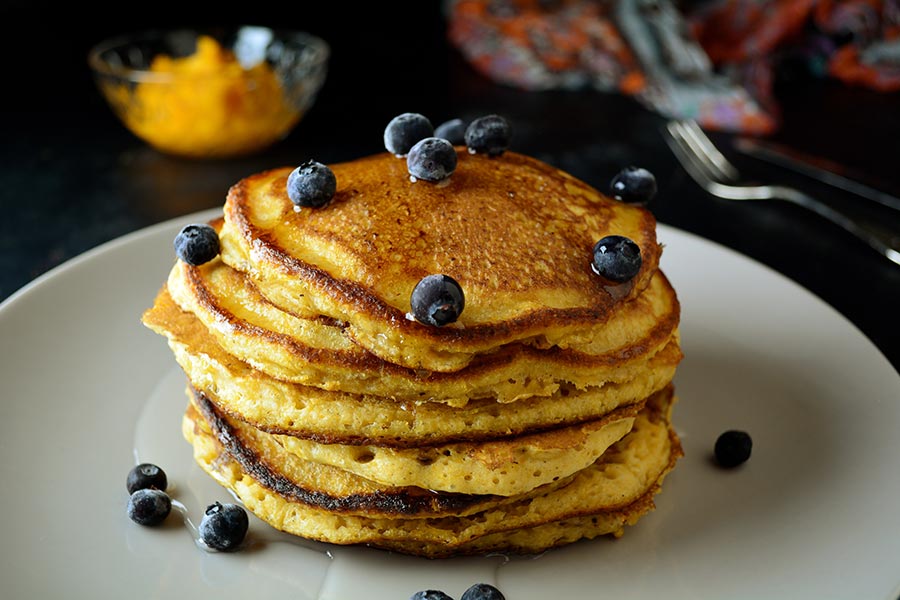 Nutrition information per serving:
Kcal: 366,
Protein: 14.6g,
Total Carbs: 58.2g,
Dietary Fibers: 8.3g,
Total Fat: 9.1g
I know you will enjoy this and because your schedule is tight and at the same time you want to balance your life and eat healthily, this kind of easy recipe is one you can try out.
Let me know how it went and if you wanna share your pictures of these pancakes, add to the comment section below.