Different vegetables are probably the most commonly recommended foods for hormonal imbalance, digestive problems, or any other health issues you might be having.
Among other things, inflammation is a very common cause of hormonal imbalance and it usually comes along with genetically modified foods, foods high in sugar or highly processed ingredients, unhealthy carbs and fats.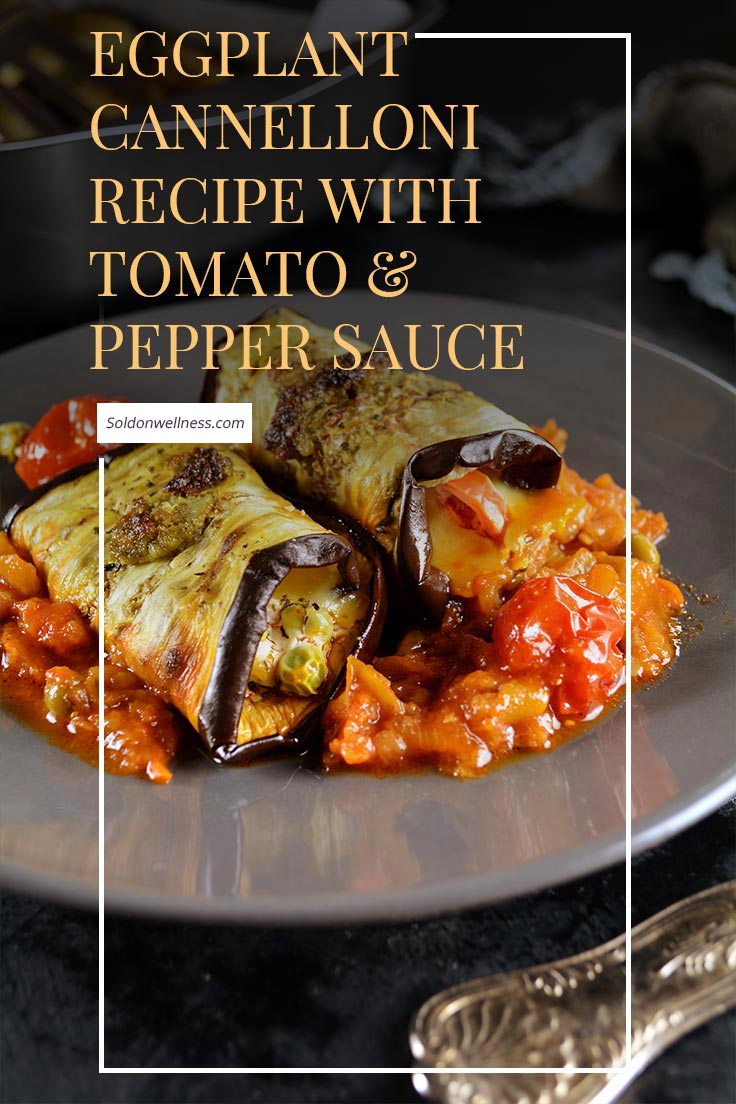 Vegetables, on the other hand, are well-known anti-inflammatory foods. Furthermore, a nice mix of different types of vegetables is a perfect way to boost your body with a generous amount of vitamins, minerals, and fiber.
Unlike simple carbs, healthy carbs found in vegetables are not easily converted into glucose which prevents the pancreas to excrete insulin, balances blood sugar levels and reduces sugar spikes.
Eggplant is one of those ingredients that has an almost neutral taste which makes it perfect for different combinations of meat, fish, and other vegetables. This nutritionally loaded vegetable is the best possible substitute for the famous Italian cannelloni recipe, enter in our Eggplant Cannelloni Recipe with Tomato and Pepper Sauce!
It is, however, important for you to prepare this eggplant cannelloni recipe before using it for the recipe. Make sure to generously sprinkle the eggplant and let it stand for a while before use – this will reduce the natural bitterness contained within the plant.
Rinse the slices thoroughly under cold running water and then bake for 10-15 minutes to soften them before rolling into cannelloni.
Besides the perfect taste and a nutrient boost, this eggplant cannelloni recipe is completely gluten-free which is also one of the things you have to keep in mind for a nice hormonal balance in your body. Serve with some Greek yogurt, kefir, or cottage cheese. Enjoy!
Serves: 3
Preparation time: 25 minutes
Cooking time: 45 minutes
Ingredients:
For the cannelloni:
2 medium eggplants, sliced lengthwise
7oz semi-soft goat's cheese, reduced-fat
2oz green peas, drained
1 large tomato, finely chopped
½ tsp dried oregano
1 tbsp extra virgin olive oil
Salt and pepper to taste
For the pepper sauce:
2 green peppers, finely chopped
1 cup cherry tomatoes, halved
2 medium onions, finely chopped
1 tbsp olive oil
½ tsp dried thyme
¼ tsp garlic powder
Salt to taste
Preparation:
Preheat the oven to 375 degrees F. Grease a large baking dish with some cooking spray or lightly brush with olive oil. Set aside.
Slice eggplants lengthwise into ¼ inch thick slices and generously sprinkle with salt. Let it sit in a large sieve for 15-20 minutes. Rinse well under cold running water and pat dry with a kitchen towel. Transfer to the prepared baking dish and bake for about 15-20 minutes or until completely tender and easy to work with. Remove from the oven and cool for a while.
Meanwhile, prepare the cannelloni filling. In a large bowl, combine together goat's cheese, green peas, chopped tomato, dried oregano, and olive oil. Season with salt and pepper to taste and set aside.
Now, prepare the sauce. Preheat the oil in a large nonstick frying pan. Add onions and peppers. Cook for 4-5 minutes, stirring constantly. Stir in diced tomatoes and season with salt, thyme, and cane sugar. Mix all well and continue to cook for another 10-12 minutes. Stir occasionally. If necessary, add some water – about 2-3 tablespoons will be enough. Remove from the heat and cool for a while. Optionally, transfer to a food processor and process until completely smooth.
Brush chilled eggplant slices with some olive oil and sprinkle with salt. Spread about 1-2 tablespoons of the filling mixture onto each eggplant slice and carefully roll up. Sprinkle with dried oregano and place in a small baking pan lined with some parchment paper.
Top with the prepared sauce and bake for 20 minutes.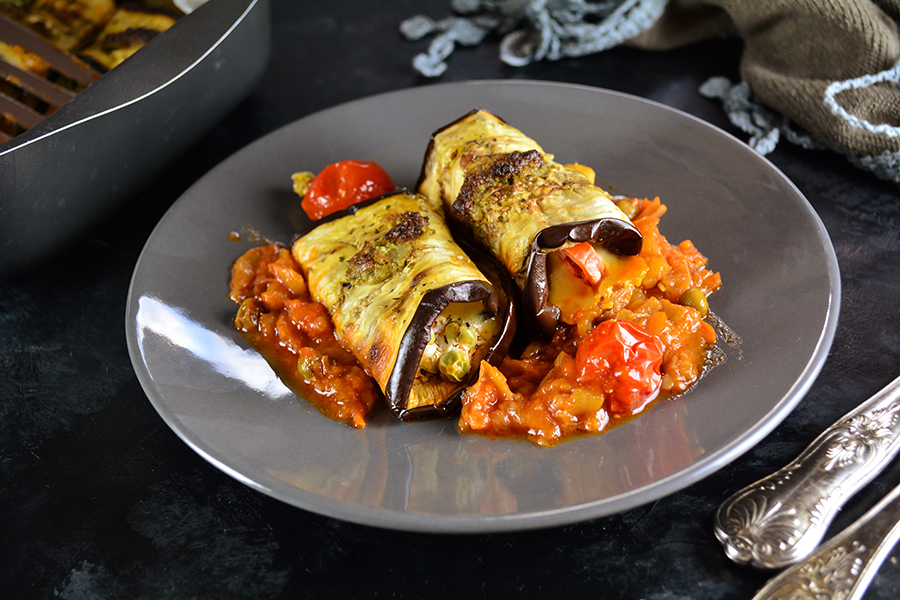 Nutrition information per serving:
Kcal: 322,
Protein: 10.6g,
Total Carbs: 22.4g,
Dietary Fibers: 9g,
Total Fat: 23.2g
Keep Thriving!
[mailerlite_form form_id=3]