Salmon is well-known for its tender pink meat and fantastic flavor. This worldwide delicacy is among the most popular fish species found in different recipes. However, that's not all these delicious fish has to offer.
Salmon is a perfect (some might say even the best) balance of two important macronutrients that maintain all the functions in the body – proteins, and fats.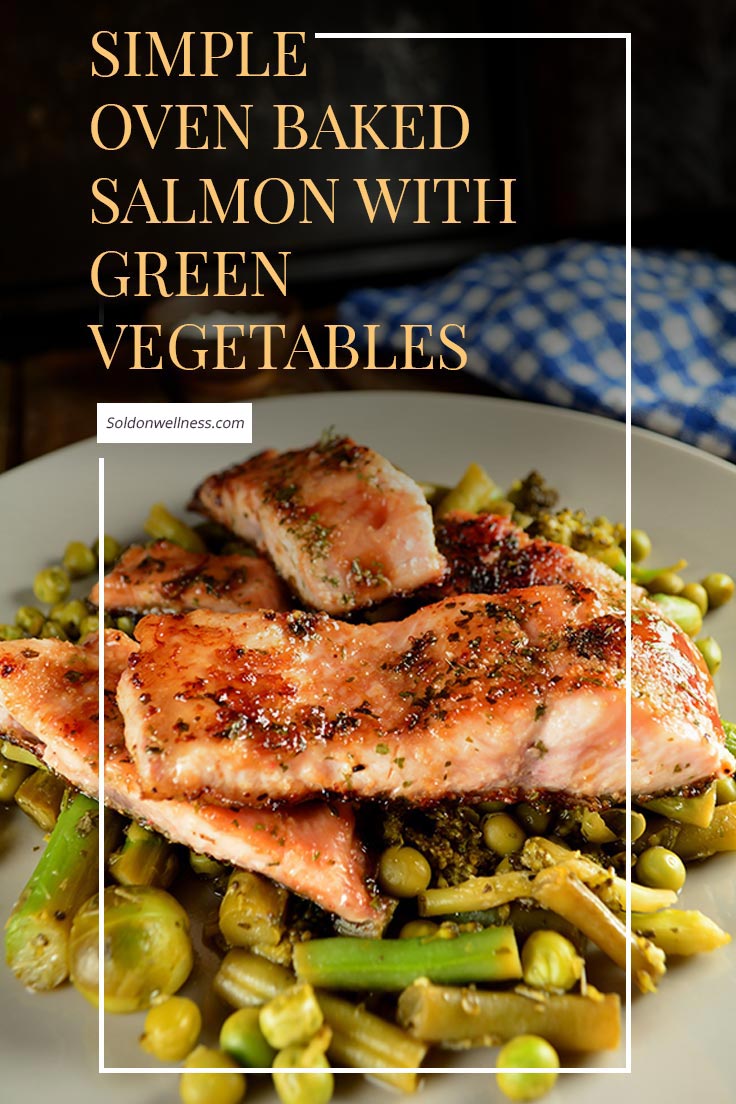 Proteins are crucial for maintaining a healthy brain function which requires an appropriate dose of amino acids in order to create serotonin, dopamine, and noradrenaline. Lack of these hormones leads to stress, anxiety, and sleeping problems – all of which can then lead to disbalance of female hormones.
Healthy fats found in salmon, on the other hand, contain good cholesterol which is crucial for sex hormone production (estrogen and progesterone). Salmon also contains a nice dose of B vitamins, potassium, selenium, antioxidants, and other nutrients that help reduce triglyceride levels, prevent heart disease, and reduce joint pain.
This Simple oven baked Salmon recipe also contains omega-3 rich olive oil and a healthy mixture of vitamin and mineral rich vegetables.
Beans, peas, and broccoli are an excellent source of magnesium, zinc, iron, and selenium which are extremely important in the production of hormones. Magnesium is also known as the "anti-stress mineral" or the mineral that has a calming effect on the body which directly improves the hormonal balance.
Having said that, it's time to give this Simple oven baked Salmon recipe a try. It takes only about 15 minutes in the oven to prepare this delicious simple oven baked Salmon and healthy lunch for the entire family.
Serves: 2
Preparation time: 20 minutes
Cooking time: 15 minutes
Ingredients:
10oz salmon fillet, skinless
7oz green beans, cut into bite-sized pieces
1 cup green peas, drained
1 medium broccoli head, cut into florets
1 small onion, finely chopped
2 garlic cloves, crushed
1 tbsp maple syrup
2 tbsp lemon juice
1 tsp dried celery
¼ tsp dried thyme
½ tsp chili powder
2 tbsp olive oil
Salt and freshly ground black pepper to taste
Preparation:
Preheat the oven to 400 degrees. Grease a medium baking dish with some cooking spray or olive oil and set aside. Optionally, line with some parchment paper to avoid the excess oil.
Now prepare the fillet. Rinse well and pat dry with a kitchen towel. Transfer to a cutting board. Using a sharp knife, remove the skin (if any) and cut into several pieces (about 1-1 ½ inch each). Set aside.
Now prepare the herbs and spices. In a small bowl, combine together maple syrup, olive oil, crushed garlic, lemon juice, dried celery, dried thyme, chili powder, salt, and pepper. Vigorously whisk the ingredients together until completely smooth. Brush each salmon piece with this mixture and transfer to the prepared baking dish along with the remaining ingredients.
Season everything with some more salt and pepper and bake for about 15 minutes, turning the salmon halfway through.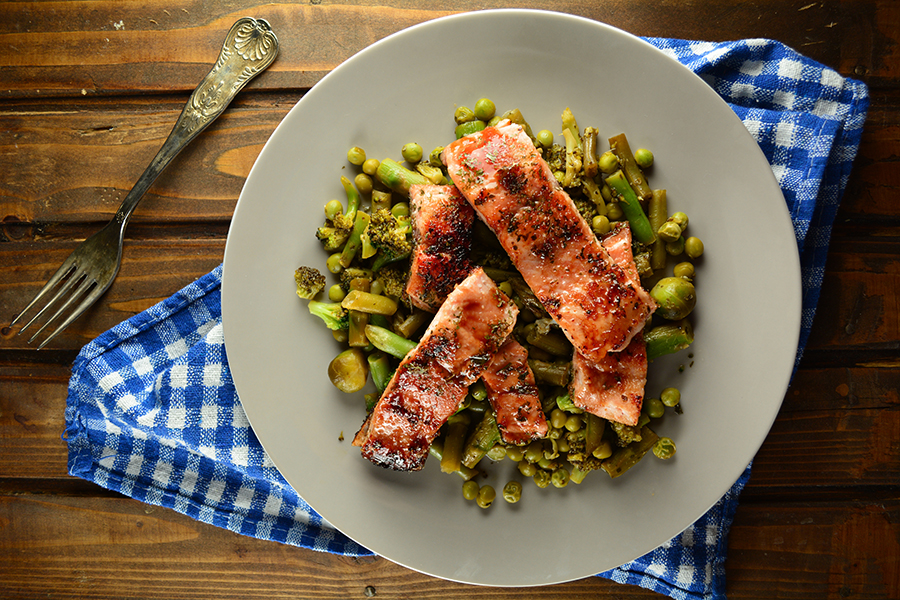 Nutrition information per serving of this simple oven baked Salmon:
Kcal: 494,
Protein: 38.5g,
Total Carb: 32.3g,
Dietary Fiber: 11.2g;
Total Fat: 23.5g
I can't hide my love for salmon, I enjoy making them in different ways which I will share with you more, if you tried this and love it, please share your experience.
Be Healthy, Be Happy