Hardly anyone (ok, maybe few exceptions) can say no to a good piece of cheesecake that melts in the mouth. However, just like most other desserts, traditional cheesecake usually comes packed with processed sugar and tons of other unhealthy ingredients you should probably avoid.
This Healthy Chocolate Cheesecake recipe came as a result of many different experiments to create a perfect balance of good taste, tender cheesecake-like texture, and powerful ingredients that will do some good for your body.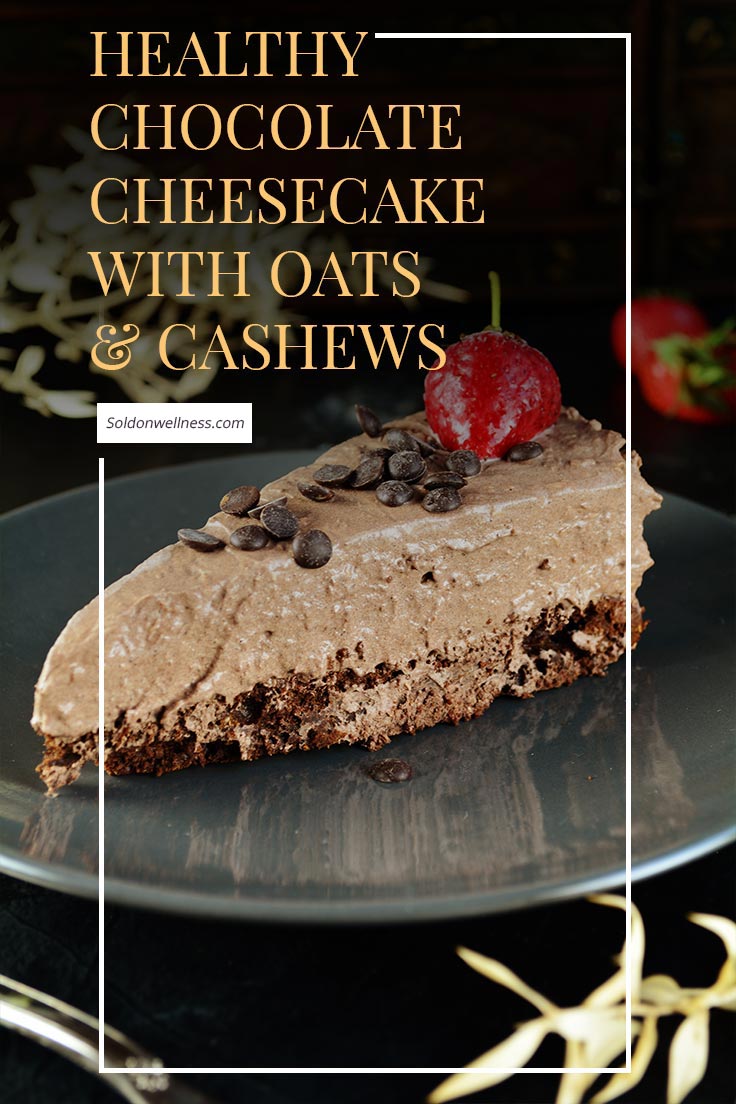 Cheesecake crust is a lovely combination of soaked cashews, old-fashioned rolled oats, and dates which hold everything together. Adding some unsweetened cocoa powder will give you a nice chocolate touch that will perfectly complete the entire flavor.
Cheesecake filling, on the other hand, is a creamy mixture of several different superfoods and unlike usual recipes, it doesn't require baking which makes things a lot easier.
As I said earlier, this delicious Healthy Chocolate Cheesecake recipe is a powerful combination of several superfoods that will provide your body with everything it needs to stay healthy. Tender bananas we all love so much contain plant estrogens called phytoestrogens.
These estrogens have the ability to balance this delicate hormone by binding to estrogen receptors. In simple words this means if the estrogen levels in your body are too low, eating foods that contain phytoestrogens will increase them and vice versa.
Furthermore, cashews (just like most other nuts) are very rich in proteins and high in anti-oxidants. They have a powerful impact on the overall secretions of hormones in your body and regulate mood swings which come as a result of hormonal imbalance.
Finally, Greek yogurt is one of the best sources of probiotics – the most important substance for a healthy and clean gut. When combined with fiber-rich rolled oats, these two have the ability to clean the entire digestive tract, help your body remove toxins, and heal the entire organism.
Serves: 10
Preparation time: 4 hours 20 minutes
Cooking time: 20 minutes
Ingredients:
For the crust:
2 cups rolled oats
2 cups dates, pitted
¾ cup soaked cashews
¼ cup plus 1 tbsp cocoa powder, unsweetened
1 tsp rum extract
For the cheesecake filling:
2 cups soaked cashews
1 cup plain Greek yogurt
1 tbsp almond butter
4 large bananas, frozen
¼ cup coconut nectar
¼ cup unsweetened cocoa powder
1 tsp vanilla extract
1 tbsp lemon zest
Preparation:
Place cashews in a deep bowl and pour in enough water to cover. Soak for about 4 hours before use. Transfer to a fine mesh sieve and rinse well under cold running water. Drain and set aside.
Preheat the oven to 375 degrees. Spray a 7-inch springform pan with some cooking spray and line with parchment paper. Set aside.
Now, prepare the cheesecake crust. In a food processor, combine together rolled oats, pitted dates, drained cashews, cocoa powder, and rum extract. Transfer the mixture into the prepared springform pan and press with your hands to flatten the surface as evenly as possible.
Bake the cheesecake crust for 20 minutes. Remove from the oven and cool to a room temperature.
Meanwhile, prepare the filling. Add the remaining cashews in a food processor along with Greek yogurt, almond butter, frozen bananas, coconut nectar, cocoa powder, vanilla extract, and lemon zest. Process until completely smooth.
Pour the mixture over the chilled crust and refrigerate overnight before serving.
Optionally, top with some chocolate chips and strawberries.

Nutrition information per serving for this Healthy Chocolate Cheesecake:
Kcal: 499,
Protein: 10.4g,
Total Carbs: 68.9g,
Dietary Fibers: 8.1g,
Total Fat: 24.3g
[mailerlite_form form_id=3]